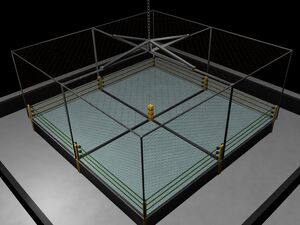 The Death Cube match is a match type in professional e-wrestling as seen in Lords of Pain Wrestling on its Insanity brand. The match has won the LPW Match of the Year on two occassions.
Background
Edit
After Krimson Mask successfully defended the LPW World Heavyweight Championship over Bloodrose at Insanity LIVE from Green Bay, it looked like no one could defeat the unbeatable fairytale monster. Determined to give Insanity fans a match to remember, general manager Stanman announced that Krimson Mask would be defending the World title at EndGame against five challengers in the first-ever Death Cube Match.
Stanman stated the match combined elements of War Games, Hell in a Cell, and Elimination Chamber matches. The countdown timer comes from the Elimination Chamber and War Games matches, the multiple ring structure comes from War Games, the large-cage structure from Hell in a Cell, and the elimination process from the Elimination Chamber.
Off-screen credit for creating the match goes to e-wrestling legend cYnical.
Structure
Edit
The Death Cube Match is a variation of the War Games, Hell in a Cell, and Steel Cage matches. Four rings are put together with the ring ropes being taken out of the middle, leaving just the ropes around the outside to form one giant wrestling ring. There are four ringposts in the middle, tied with leather straps. The action all takes place in the giant steel cell, with the roof 20 feet from the apron.
The match is contested by six wrestlers, two beginning the match in the giant ring. After a predetermined amount of time (usually two minutes) another participant enters the match, and this continues until all six participants have entered the ring (no one can be eliminated until all have entered). After the final entrant has entered, the match goes into elimination-style. Wrestlers are eliminated by submission or having their designated second throw-in the towel. Once it's down to the final two participants, then pins, submissions, or knockouts count. The winner is the final man left after all others have been eliminated.
Match history
Edit
For detailed results, see the articles of the events.
#
Match
Event/Date
Length
1
Krimson Mask (c) defeated cYnical, Eric Scorpio, N'itomniskittel, Bloodrose, and Stone to retain the LPW World Heavyweight Championship.
EndGame
(February 10, 2008)
39:20
2
Hatchet Ryda defeated Eddie B, Wevv Mang, The Rabbi, Villiano 187, and X (c) to win the LPW World Heavyweight Championship
Body Count
(August 17, 2009)
-
3
Morpheus (c) defeated Azreal, Big B. Brown, Nigel Vanderbilt, Ultramarcus and Krimson Mask
Ragnarök
(June 4, 2012)
-
External links
Edit




Match of the Year

Achievement Awards
D. Hammond Samuels vs. Pen (Altered Reality III) • DeathCube Match (EndGame) • DeathCube Match (Body Count) • Ken Ryans vs. X (Altered Reality V) • Tromboner Man vs. Drew Michaels (Sacrificial Creed)




Moment of the Year

Achievement Awards
cYnical wins LPW World Heavyweight Championship • Hatchet Ryda wins DeathCube for LPW World Heavyweight Championship • Haemoglobin unmasks to reveal himself as Tromboner Man • Drew Michaels reveals he is the mastermind behind Tromboner Man's exile