Bloodrose
Billing information
Born
Unknown
Height
6 ft. 0 in.
Weight
233 lb.
Billed From
Transylvania
Music
"Mater Tenebrarum" by Theatres des Vampires
Affiliation
Vampire Council, Scarlet
Wrestling information
Alignment
Heel
Style
All Around
Match history
27 wins
17 losses
Daniel Fenton Bloodrose was a Transylvanian vampire and e-wrestler, better known by his ring name Bloodrose. He performed for Lords of Pain Wrestling (LPW), formerly the Psychotic Wrestling Alliance (PWA), and briefly for Full Metal Wrestling (FMW).
In wrestling
Finishing moves

Memento Mori - Flipping Powerbomb
Bloodrose Thorn - Edgecution DDT
Dark Embrace - Crosses opponent's arms across his or her neck and chokes them out with his or her own arms, preferably if he or she is on the ground

Signature moves

Chokeslam
Spear
Stunner
Spinebuster
Samoan Neckbreaker
Samoan Driver
Dangerous Driver
Neckbreakers of every kind
Diving Reverse DDT
Eye of the Hurricane
Electric Chair Drop
Moonsault
Deja Vu
Superkick
Suplexes of every kind
Music

"Dragula" by Iced Earth
"Mater Tenebrarum" by Theatres des Vampires
Championships and accomplishments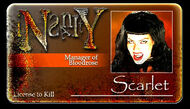 Match history
Result
Record
Winner(s)
Loser(s)
Event
Date
Notes
Score†
Loss
27-17-1
Jude Maxwell
Bloodrose, Mass Chaos (c), Sean Jensen, Cash Flo, Big B. Brown, and Andrew Carpenter
Honor Roll
January 18, 2009
LPW Television Championship Scramble match
0.00
Draw
27-16-1
Bloodrose fought Sean Jensen to a no contest
Inferno 13.2
December, 2008
Singles match
0.00
Win
27-16
Bloodrose
RaTo
Insanity LIVE from Detroit
April 27, 2008
Insanity vs. Inferno match
N/A
Loss
26-16
Krimson Mask (c)
Bloodrose, cYnical, Eric Scorpio, Stone, and N'itomniskittel
EndGame
February 10, 2008
LPW World Heavyweight Championship DeathCube Match
4.16
Win
26-15
Bloodrose, Krimson Mask, and Eric Scorpio
The Uprising (cYnical, Stone, and Bobino)
Insanity LIVE from Tampa Bay
January 7, 2008
Six-Man Tag Team match. Bloodrose pinned Bobino, allowing him to be the final entrant in the DeathCube Match
N/A
Win
25-15
Bloodrose
Pope Fred
Insanity LIVE: Revelations from Dallas
December 7, 2007
Singles match
N/A
Loss
24-15
Krimson Mask (c)
Bloodrose
Insanity LIVE from Green Bay
October 16, 2007
LPW World Heavyweight Championship match
N/A
Loss
24-14
Krimson Mask (c)
Bloodrose and cYnical
Annihilation (2007)
September 14, 2007
LPW World Heavyweight Championship Gauntlet match
N/A
Win
24-13
Bloodrose
Al
Insanity LIVE from Gainesville
June 5, 2007
Number One Contender's match for LPW World Heavyweight Championship
N/A
Win
23-13
Bloodrose
cYnical
Insanity LIVE from Eugene
May 22, 2007
Winner to face Al for Number One Contenders match for LPW World Heavyweight Championship
3.90
Win
22-13
Bloodrose
White Falcon
Insanity LIVE from Los Angeles
May 7, 2007
Singles match
4.18
Loss
21-13
Al
Bloodrose
At All Costs (2007)
April 7, 2007
World Championship Tournament semifinal match
4.28
Win
21-12
Bloodrose
Sick Fixx
Schizo LIVE from Denver
March 1, 2007
World Championship Tournament quarterfinal match
N/A
Win
20-12
Bloodrose
SoL
Schizo LIVE from Houston
February 5, 2007
Singles match
N/A
Win
19-12
Bloodrose and SoL
Al and X
Schizo LIVE from Cleveland
December 21, 2006
Tag Team match
N/A
Win
18-12
Bloodrose
BiggiE
Homecoming (2006)
November 29, 2006
First Blood Money in the Bank match. Drafted to Schizo with 24th draft pick
N/A
Loss
17-12
Team SoL (SoL, X, Sick Fixx, and White Falcon)
Team Morpheus (Morpheus, Bloodrose, Spectre, and Soul Reaper)
Altered Reality III
November 1, 2006
Tag Team Elimination match. Sick Fixx last eliminated Bloodrose to be the sole survivor
N/A
Loss
17-11
cYnical
Bloodrose (c)
One Way Ticket
Sept. 22, 2006
Lost PWA Western States Heritage Championship
N/A
† Promo score is a rating which ranges from 0.0 to 5.0, the latter being the highest. Promos are judged to determine the better promo between e-wrestling competitors.
See also
External links
PWA Television Championship

Preceded by:
First

Bloodrose
Schizo 2.3 - Annihilation 2004




Feud of the Year

Achievement Awards
cYnical vs. Krimson Mask • Eddie B. vs. X • Ken Ryans vs. X • Andy Savana vs. Nigel Vanderbilt




Match of the Year

Achievement Awards
D. Hammond Samuels vs. Pen (Altered Reality III) • DeathCube Match (EndGame) • DeathCube Match (Body Count) • Ken Ryans vs. X (Altered Reality V) • Tromboner Man vs. Drew Michaels (Sacrificial Creed)




Apex of the Decade






Lords of Pain Wrestling